Страница
1
от
1
•
Share
•

AnHiMiLaToR's MU REBOOT (ANHIMU):
Location: Bulgaria
Servers UpTime: 24/7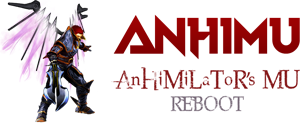 GENERAL INFO
Re-Launched: 05 JAN 2019
Version: 99.62T
Experience: 250x
Drop rate: 50%
Box in shop: NO
Bless Bug: OFF
Max level: 400
Reset level: 350
Max reset: Dynamic
Grand reset: NO
Stat Points Per level: SM/DK/ELF - 5, MG/DL - 7
QUEST SYSTEM
Custom Quests designed to help new players
Current quest for 10 max resets: 50
CUSTOM COMMANDS
/post, /online, /pkclear, /time, /questinfo
Stats adder (needs Switch Character)
/addstr 999
/addagi 999
/addvit 999
/addenr 999
CLASS QUESTS
For Scroll of the Emperor, kill monsters in:
Lost Tower 1, Atlans 1/2
For second item (class-specific), kill monsters in:
Lost Tower 7, Atlans 2, Tarkan
It may take time until the item is dropped.
GAME EVENTS
Blood Castle Rewards : Blue Feather
Devil Square Rewards : Zen & EXP + 1 Golden Monster
Chaos Castle Rewards : Ancient Item
Sky Event : Once a day; reward : 10 x Jewel of Bless
GOLDEN INVASIONS
DYNAMIC
CUSTOM
Elf Buffer viable for low reset PvP
Party Bonus : FULLY WORKING for 3+ players
Devil Square Party Bonus : Greater than outside zones
Website :
https://anhimu.eu/
Client Download :
https://anhimu.eu/download
SERVER SPECS *DEDICATED SERVER*:
INTEL CORE i7-7700 up to 4.2GHz
32GB RAM (2x16GB RAM)
256GB SSD
FAST NET
USEFUL LINKS
Forum : AnHiMiLaToR's MU REBOOT - Home
Facebook Fan Page: Anhimu - Anhimilator's MU Online Server
Facebook Group:
https://www.facebook.com/groups/ANHIMU.EU
* HARD SERVER STARTED: 11/02/2018
* HARD SERVER RESET: 05/01/2019
* Custom exclusive website written from scratch. We are adding new features continiously.



Брой мнения

: 4


Registration date :

02.10.2011




---
Права за този форум:
Не Можете
да отговаряте на темите